Happy "not-yet-the-end-of-summer-but-almost" last week of August!
It's been wonderful having students return to our school and liven our hallways again, and I have thoroughly enjoyed meeting many of our incoming parents at one of our many events this summer.
I am writing to share the following:
 Road construction.  Brandeis road will be closed for paving on Friday, September 1.  Anyone needing to access the school should park/drop-off on the Brown and Oak Hill side of our property and take the path through the athletic fields.
L-Bench.  Our L Bench, (it's more of a U, really) which has been a fixture at South since the renovation in 2004, is no longer.  Demolition of the bench is making way for an atrium with plants that will be maintained by our biology program.  As we increase in size (we will have more than 1900 students this year, the largest ever enrollment in the history of Newton South, and we are predicted to grow to 2000 soon), we have found that many students congregating so close to several classrooms is not good for our learning environment.  While it is true that recently we have had some poor decision-making from students in this area, this change is more related to proximity of classrooms and noise than any specific student behaviors.  Traditionally, this bench has been an area where juniors tend to congregate, and we will work with this year's junior class to find a different space for a home base.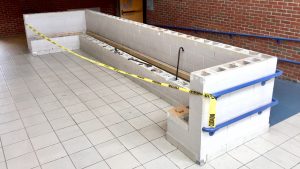 Thank you, and we look forward to seeing all of our NSHS students back in our classrooms on Tuesday, September 5!