The Newton South librarians are excited to announce that New York Times best selling author of We Were Liars (and others) is coming to NSHS to discuss her latest book Genuine Fraud on Monday October 30 during C-Block in the auditorium.
This event is made possible by Wellesley Books. Instead of charging us a speaker's fee, Wellesley Books asked that we distribute an order form in advance for students to buy signed, personalized book copies. Book purchases are optional. We have sent this form out to all students via Schoology, but you can also find it here.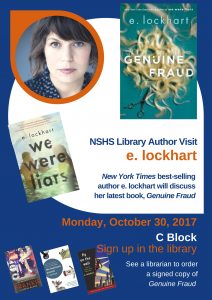 We are inviting any classes with interested/engaged readers to come hear her speak and participate in a short Q&A about her books and the writing process.
Students who are not coming with their class may also be able to attend with permission from their C-Block teacher. They should ask a librarian about how to sign-up. Book purchases are available to everyone, regardless of whether they are able to attend the author presentation.
We have copies of We Were Liars and Genuine Fraud in the library if students would like to read it in advance, and the e-book of We Were Liars is available in the free Axis360 app.