We are into second semester with no reports of frozen pipes for two weeks (as of this writing)!  The cold weather continues for some time, of course, and students should still be prepared for evacuating into the elements in case the pipes freeze in the near future.
I am writing to share some updates for ongoing projects:
A)  Our newest addition: indoor plants!  Before and after pictures of the area formally known as the "L" bench.  Wonderful to walk by and get a burst of oxygen!
Before: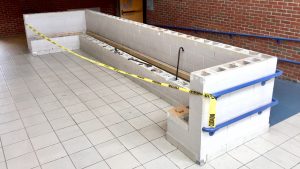 After: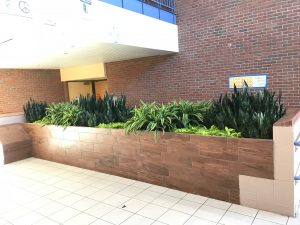 Thanks to the many clubs, science students, and science teachers for securing funding and designing an indoor atrium featuring non-pollen producing leafy vegetation.
B)  High School Schedule
The Newton North and South High School Schedule Committee has been meeting since the Spring of 2017.   Since that time the committee has made a lot of progress in learning about the values that are most important within the school day such as time for students and teachers to meet for extra help.  Additionally committee members have visited area schools and learned about the pros and cons to their high school schedules.  This spring possible schedule options will be presented to the NNHS and NSHS faculty.   More updates to follow…
C)  Pep Rally
Led by our senior class officers, our student leadership council has been hard at work designing and planning our upcoming spirit week (February 5th – 9th), culminating in a pep rally on Friday!  I'm excited about some new ideas and old favorites, and look forward to sharing our day with you.