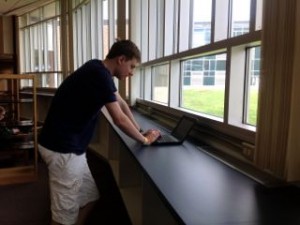 A HUGE thank you to those who donated to the PTSO Success@South program earlier this year. Because of your generosity, Library renovations began during April vacation with the installation of a new technology counter! It didn't take Richard DeNitto ('14) long to spot the changes and try out the  'tech counter'  with a  Chromebook (purchased last year with PTSO funds). Counter stools are still missing. They will be ordered soon.
As stated in the Success@South brochure, the "technology counters will help facilitate virtual research and collaboration, as well as significantly increase student work surfaces in the library. Access to natural light, with a view into the lovely courtyard will also make the counter an ideal space for quiet study."
Watch this space for further developments!