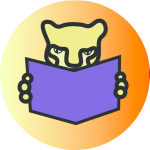 The recipient of this year's Success@South campaign is the Newton South Library which plays a vital role in the daily life of South students. Thanks to our three dynamic librarians, Jennifer Dimmick, Margaret Schoen, and Katherine Steiger, we have some numbers to demonstrate just how much the students use the library.  Between the end of the December break and yesterday, the library logged 83,014 student visits.  That remarkable number reflects the fact that hundreds of South students visit the library each day, many of them multiple times.  Yesterday was in fact the busiest day in the library this week, with 2,336 student visits (even with a two hour delay!)
It's a challenge for the library staff to ensure that the library meets a variety of needs.  Kids come to do homework during a free block, to work on group projects, to check out a book or download an eBook, and to use the technology available in the library (chromebooks, printers, a green screen for filming).  Kids also come just to take a break from the school routine.  They can talk with friends, relax in the reading area, use a board game, or make a bracelet.  The library takes on an even greater role as a place to go when the weather is bad and the kids don't want to go outside.
The library is an awesome place but the facilities are in need of updating in order to better serve the needs of our students.  The librarians would like replace the group tables in the quiet study area with more individual study carrels to improve its function for kids who need a truly quiet space to focus.  They also would like to replace the worn and uncomfortable upholstered chairs in the reading area to make it a more comfortable and welcoming space  for students to relax and take a break.  This video demonstrates some of the improvements which the librarians hope to make with the Success@South funds.
Thanks to all the families who have contributed so far to the Success@South campaign.  It's time to wrap up our fundraising with one last push. If you have not contributed to Success@South, please consider doing so now.  Click here to donate.  Contributions to Success@South are tax deductible and may be eligible for matching funds from your employer. We thank for your support.