Q: What are Senior obligations?
A: Your student may have textbooks or equipment or sports team uniforms to return before they can graduate. They receive notification in Advisory and a notice is also sent home. They should see their House secretary or department chair to return an item or pay for its replacement. Seniors should do this before checkout day, if not, they will have to take care of it at checkout day before they can receive tickets, cap and gown, and school folder. The process takes about 20 minutes.
Q: What happens on Checkout Day?
A:  Senior checkout is on first Monday in June from 11-1 in Gym B.  Students clear any obligations, pick up caps and gowns, graduation tickets, parking permits and cumulative folders (their Newton Public Schools records from pre-kindergarten screening through senior year.) Next is the mandatory graduation rehearsal at 1:15pm in the field house, followed by the Senior Send-Off lunch. The PTSO will provide lunch for the seniors in the cafeteria.  This is also a traditional time for signing yearbooks.
Q: What measures are in place to make Senior Prom a safe and enjoyable event?
The Senior Prom will take place on first Tuesday in June. The senior prom is an event that many seniors have been looking forward to since entering South, and students make many preparations in anticipation of the evening. Please join us in insuring that this night lives up to its promise for our students by helping to keep each one of them safe and sober. No student under the influence will be allowed into the senior prom; we will have random breathalyzer checks. Any student found to be intoxicated or otherwise under the influence will have his or her parents called and will not be allowed to stay at the prom. There will be no exceptions made to this rule.
Q: What is SouthFest?
The PTSO SouthFest Parent committee organize an extravagant after-prom celebration on first Tuesday in June at Newton South from 11:30PM – 3:00AM. SouthFest is for ALL seniors (whether they have attended the prom or not), and their prom dates.
Q: Does my student need to attend the Graduation Rehearsal?
A: Graduation rehearsal is required for all who wish to participate in the ceremony and will be held in the Newton South Field House.
Q: What date is Graduation? How many people may come to graduation?
A: Graduation is on First Thursday in June. Each family gets 6 tickets. If you will not use all of your tickets, please return them to your student's house office. If you need more tickets, you may call your child's house office. Each house will keep a waiting list and distribute extra tickets on an equitable basis.
Q: Can I watch graduation online?
Yes! This is a great alternative for out of town relatives, frail grandparents, very young children who can't sit for 2 hours, or anyone who hates crowds. Click here for the link to the livestream of the graduation.  Also, NewTV will be recording graduation, and are selling DVDs.  To order a DVD of graduation, you can go to the NewTV website or use the Graduation Flyer.
Q: How will parking work?
A: Each family will receive 1 parking permit. No extra parking passes are available. This means you will need to plan around both a student and a family arrival. There will be traffic officers and Newton South faculty and staff directing the parking. Please follow their directions. See the parking map below for where you may park. Be warned that traffic will be heavy. If you need parking for limited mobility (i.e. handicap), please see below for more information. Newton South families who live near the school are highly encouraged to walk to and from the graduation ceremony to avoid long lines of traffic.
Q: What about parking for those with mobility issues?
A: Please contact your house secretary for a special parking permit. The parking map shows the designated area to park near the Field House. If you request a parking space in the lot for limited mobility, that this will use up your one parking spot.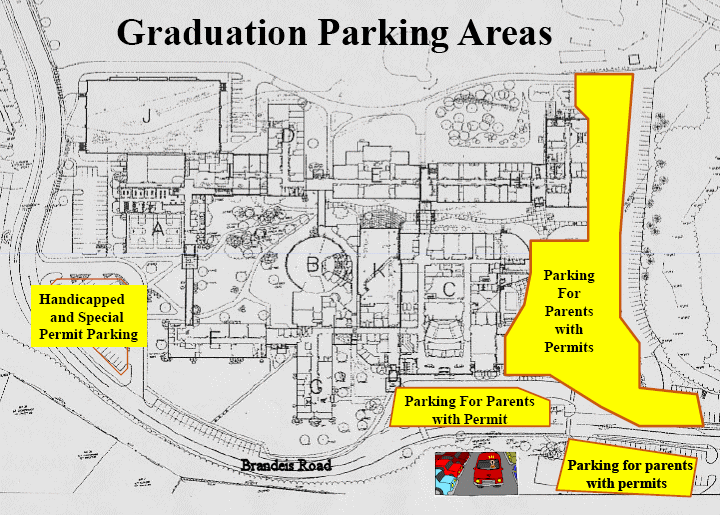 Q: What will traffic flow be?
A: At 3pm, all traffic will be one way from Parker Street around the school. (See map below.) This means that you should pull into the designated parking area, or you will have to circle all the way around to get back to it. The traffic situation is crowded and slow. Experienced parents recommend that you bring your student and the whole family at 4 p.m. and stay–don't try to go back home again and back–much too stressful!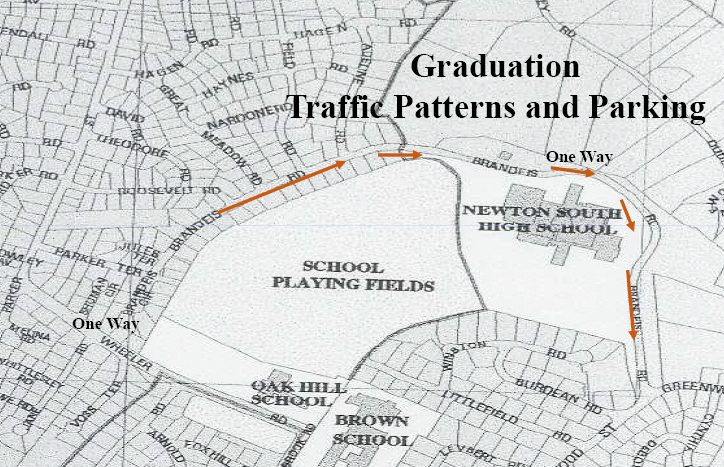 Q: When does seating for the ceremony start?
A: The lobby doors open at 4:00pm. The field house doors will close promptly at 4:55 PM.  No one will be admitted to the field house during the processional of seniors and faculty.  The doors will reopen after the procession and introduction.  The ceremony is from 5-7pm.
Q: When should Seniors arrive?
Seniors should arrive at 4pm to line up in Wheeler commons. The ceremony lasts two hours, and a professional photographer will take a picture as each individual graduate receives a diploma. Graduation is usually live-streamed so that family members who are not able to attend can view the graduation as it happens. Also, NewTV will be recording graduation, and are selling DVDs.  More information about NewTV's graduation DVDs can be found here.
Q: Is there a dress code for the ceremony?
While we, as a school, value individual expression, graduation is a ceremony to celebrate the accomplishments of the entire graduating class. It is important that individual behavior honors the group and does not take the focus away from the class and event as a whole. We expect that students will dress appropriately. We do not think that shorts, jeans, hats, T-shirts and sneakers are appropriate for this once-in-a-lifetime occasion.
Q: Where should I sit?
A: The students will be seated according to house. (See diagram below.) The ceremony is also shown on the large projection screen in the Field House. This view is also live streamed to the internet. (We publish the link after it's all set up each year.)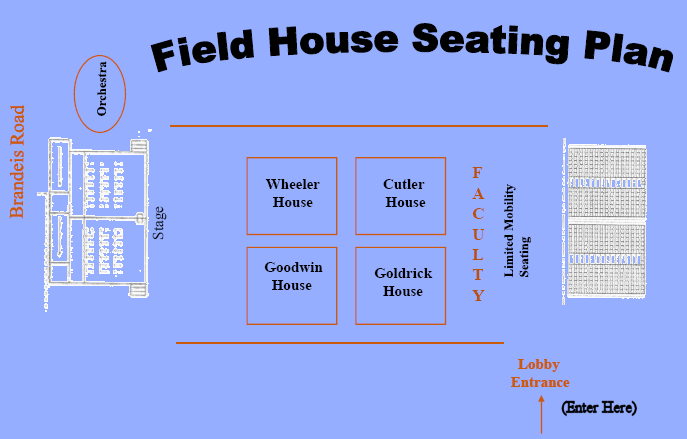 Q: How do I order a cap and gown for the ceremony?
A: Orders happen during the early Spring. After that, a late fee is added to the cost. For the class of 2019, orders begin on Monday, March 4th during all three lunches.  The cap & gown announcement 2019 has all the information about ordering including what date you may order on (by student last name).  You will need to turn in a Simple Measurement Form when you order.  Please contact Ms. Stonehill (julie_stonehill@newton.k12.ma.us) if you have any questions.
Q: What is Senior Skip Day?
During the spring of senior year, students may organize to skip a day of school. This is NOT in any way sanctioned by the school. Any student who does not have a legal or medical note verifying their absence will be marked unexcused. For most students this is no big deal. However, for students who receive 9 absences in that term, they will "N" out, which will affect graduation. You can always go to Aspen and check if your student has any unexcused absences.
Q: What is Graduation Speaker Tryout?
South does not do the traditional valedictorian speech for graduation, but rather opens it up to any student who is interested. Students sign up outside the English Office and then read their speech before a panel of teachers who will select the final speakers. The faculty go out of their way to include a range a students so all experiences are validated – ALL are encouraged to try-out.
Q: What is Senior Awards Night?
This is an invitation only event recognizing the accomplishments of members of the senior class.
Q: What is Assassin?
Seniors may organize a game called "Assassin". This is basically water squirt gun tag and the school is NOT responsible for this and does NOT sanction this event. Student organizers take money and assign each student someone to spray with water.  Once sprayed, that student is out of the game.  The last student(s) not sprayed wins the game and gets the money everyone paid in.  This is a very fun game, but please talk to your student about being SAFE.  No hanging out of cars to spray someone, no water guns allowed at school at all, no spraying in public areas where bystanders could be hit inadvertently.  Tip from the police:  please encourage your student to use a water gun that is clearly fake, so the police (and your neighbors) will not think it's real.
Q: What is the Scavenger Hunt?
Seniors may organize The Scavenger Hunt, a game that is after graduation, since previous participation prevented them from graduating. Many of the activities listed on the Scavenger Hunt are criminal in nature (vandalism being most common). The Police stated that if they catch a student committing a crime, they will prosecute. This is NOT a school sanctioned event. Please encourage your student NOT to participate.