Hello Hybrid A, B, and C Students and Families,
I hope you have been enjoying your weekend.
As we have a cold week ahead, a reminder that we are unable to accommodate students arriving earlier than 8:50 am to South. This is because we don't have the staffing and supervision required under COVID health and safety guidelines.
If you are eating a grab and go breakfast in the cafeteria, you are welcome to arrive at 8:50 am at the main entrance door, ring the bell, and someone from the main office will let you in. Otherwise, all students should arrive as close to 9:00 am as possible as that is what time all other doors at South will be open to students (see screenshot).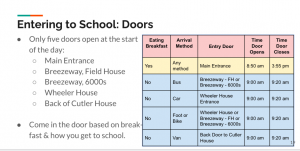 Thanks for your understanding.
Chris Hardiman
NSHS Interim Vice Principal