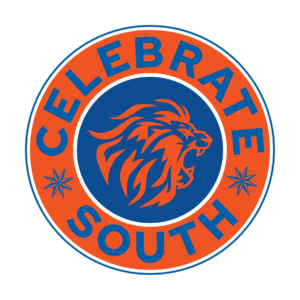 What is Celebrate South? Celebrate South is a weeklong event where we (PTSO, Boosters, Faculty and Staff) celebrate all the students that make South an amazing place to learn and grow. This year it will kick-off with a Girl's Soccer Game vs Strongsville High School from Ohio (October 15th) and wrap up with a Varsity Football game vs Boston Latin (October 21st). But we all know that South is not just sports. In between there will be a production by South Stage, Passing Time Talent Shows, a school-wide Fence Decorating Contest, Spirit Week Theme Days, Music and Dance performances and so much more!
How is the PTSO Supporting this Event? The PTSO will be giving away some swag for every single student so that they will be sure to have some South Themed items. In addition, we will be hosting a school wide ice cream event with toppings bar on Tuesday during Lion Block and treats in the student center during the school wide talent performances on Wednesday during WIN block
How Can I Help The PTSO? You can help the PTSO is three ways… Spread the Word, Volunteer during the week, Donate. Please sponsor the event in any way appropriate for your family.
Much like the Teacher Appreciation events we plan on hosting Student Appreciation events throughout the year. Your generous donations will make it possible to keep these events going for our almost 2000 student population.
Donate
Volunteer
Have Time to Volunteer October 15 – October 21?