In Term 3, the South and North libraries took the idea of interactive contests to a whole new level with Nailed It: Library edition. If you're not familiar, Nailed It! is a Netflix competition show where amateur bakers try to recreate professional cakes in a bake-off format. We put a library twist on it and asked our student and staff contestants to bake and decorate cakes inspired by books. The contest submission period included the February vacation to allow for more time for baking! Contestants submitted photos of themselves with the cakes to authenticate their creations.
After the break, we assembled the photo submissions into a slideshow and created an interactive ballot for voting for the best book-inspired cakes. Participants included both students and staff. And all modes cohorts were represented:  fully remote, HyFlex and fully in-person. We promoted this challenge using Schoology, social media, and email and received far more submissions than we expected — considering the complexity of the task! We were pretty sure many people liked books and cake, but combining the two took some effort.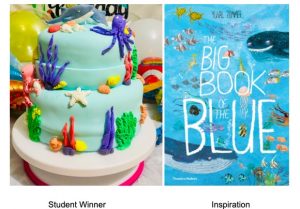 We had one winner and one runner-up each in the student and staff categories. Winners received a baking book (thanks to grant support from the PTSO). We had great fun with this, and we think participants and viewers did too!