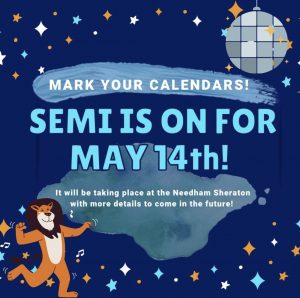 Class of 2023
SEMI INFORMATION
Who?
All NSHS juniors and their guests
When?
May 14, 2022 7:00 p.m. – 11:00 p.m.
Where?
Sheraton Boston Needham Hotel
100 Cabot Street
Needham, MA 02494
Cost
$75 Tuesday, April 5th – Thursday, April 14th
$85 Monday April 25th – Friday, April 29th
$90 May 2nd- May 11th
Ticket Sales end Wednesday, May 11th
Tickets will be on sale in the Student Center near the College & Career Center beginning on Tuesday, April 5th. Tickets will be sold per the tiered pricing schedule above. Please make checks payable to Newton South High School. On the memo line please write Student Name & Class of 2023.
To attend, all necessary forms must be signed and handed in at the ticket table at the time of your ticket purchase. Your name will NOT be added to the official guest list unless your forms are correct and complete.
Every NSHS junior needs: General Permission Slip
Non-NSHS guests and NSHS grades 9, 10, or 12 need: Special Guest Form and copy of ID
Guests/Dates:
All juniors are welcome to attend the dance and can bring one guest from the junior class or any other grade at South. All guests from outside of South and those NSHS students in grades 9, 10 or 12 need to fill out a Special Guest Form, which may be found in the house offices. A copy of the guest's student ID MUST accompany their Special Guest Form. All forms MUST be turned in at the time of ticket purchase.
Financial Aid: Please speak with your House Dean